Fool Moon by Jim Butcher 3 out of 5 Stars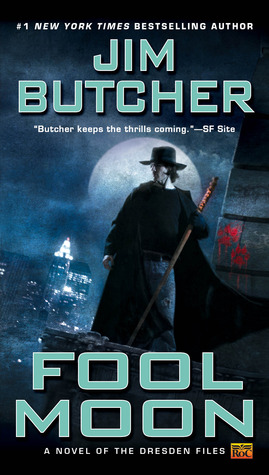 I'll start off by saying that this book in the Dresden Files is probably one of my least favorites of the whole series. In fact, while writing this I changed my original rating from 3.5 down to 3 Stars. I'm probably still being a little lenient there if I'm honest. This is a shame since I happen to actually like werewolves. (Well the idea of them, anyways.) But, as with this story, most of the time they're used in books or movies or whatever else, they end up being a disappointment.
So Fool Moon introduces us to werewolves and all their complex glory. There are a few different types and they all play some varying degree of roles in Fool Moon. With that in mind, let's get down to the basics. Someone dies, it looks awfully like a big bad werewolf is responsible, which means we have another whodunnit handed to Harry Dresden! As I said in my previous review, this series likes to stay in its given formula and this one does just that. (Which, again, is fine. Dresden is a wizard-private investigator after all. He needs something to investigate!)
So Dresden teams up with Karen Murphy, Chicago's most toughest tough as nails female with short man syndrome law officer of justice … If you can't hear my annoyance, I'll get this out of the way. My absolute least favorite thing about this book is Murphy (She actually represents something I find annoying in lots of different stories)  She basically seeks help from a Dresden to, ya know, have him help solve the case or whatever, only to start mistrusting him because he is helping in a way that seems too suspiciously suspicious. (Is that a spoiler, I'm sorry if it is. I mean I still think you need to read it to really get it in context)
Well I'm going to give you a little context anyways. It would be like Commissioner Gordon lighting up the bat signal to call Batman and ask him for help about something which only Batman had information on. Batman gives Gordon this information to, ya know, help, but then Gordon turns on him and announces, 'You're under arrest, Batman. Ya know, for trying to help me solve this case which you'd never would have been involved in unless I called you in the first place'…..
Basically, Murphy was stupid-annoying this book and all we get to show for it is Dresden basically feeling bad about her being really fucking annoying because reasons?  (Excuse my, language or don't. Whatever………….)
BUT with all that said, this book isn't all bad. Really it isn't. It has some annoying bits. So annoying that I almost wanted to give up the series, but yet again it is saved by a great narrator who really does justice in playing Harry Dresden. (Thank you again, James Marsters!)
Dresden is by all means resilient and resourceful throughout this book. And it is kind of a joy to see him get out of the madness he is thrust in to. Not only that, we get to see some new character get into trouble with him and help him. It's not perfect, but it is pretty cool . Plus ya know, werewolves.
So definitely give this one a read (or listen I should say cuz audio books rule!!!) and try not to get hung up on the stupid parts. Underneath that, there is still a robust lineup of interesting characters and an ever building world of magic and mischief that is a necessary stepping stone in the long run.
Really, the series does actually get better but Fool Moon is as mediocre as they come.