Review on Death Masks!!!!!!!!!!!
Death Masks by Jim Butcher 4 out of 5 Stars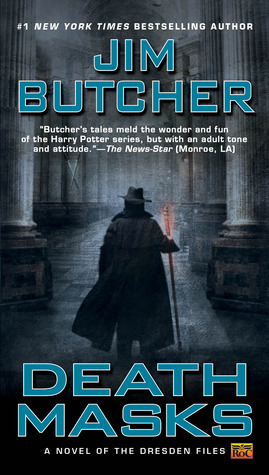 So this one almost made the climb to 4.5. Almost. It's good. One of my favorites really, because it had a lot of story going on.
BUT I won't be getting into much of that story because… go read it, that's why.
Harry Dresden! What kind of mess is he getting into this time? Well turns out there's lots of messy things he's a part of in this book. Duel with a vampire anyone? Psh, yeah and it's only because he's trying end this whole war thing going on. Susan is back. She's got shit to do and she's half-vampire and cooler than ever. Oh and holy friggin' knights anyone? What. What. What. Then Nicodemus! Who is he? What is he? And does he like coffee with his murder?
Yeah, seriously, kind of cool stuff there. It gets a bit crazy and I think that's why I bring it down to a 4. Still, there is more of that sweet, sweet, world building and character building. Included free of charge. (Not really. I had to buy the book, but it's worth it. James Marsters is a master of narration, so audio book purchase is a must!)
Oh and Ivy. She's just a seven year old girl and known as the Archive, a living, breathing bank of all the world's knowledge. Plus all that power she's got which is awesome. She might be one of my favorite parts of the whole Dresden Universe. She's such a cool idea and a great character. Seriously, how can you not like Ivy? The correct is answer is you have to like her. You. Have. To.
Anyways. This is probably the book that really started solidifying the series for me. So if you like that kind of thing, read this one. And enjoy it. I did.